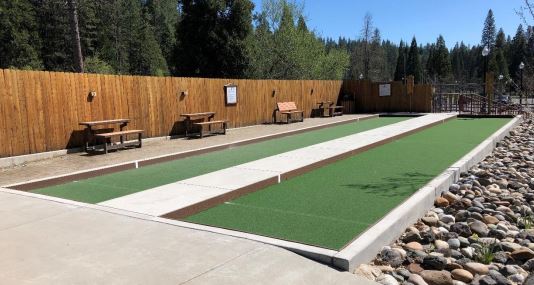 A Sonora Area Foundation (SAF) matching grant in honor of late former board member Jim Johnson has been met. SAF's board of directors matched $28,000 in community donations to fund the estimated $56,000 cost of improvements to the Twain Harte bocce courts.
In addition to strong community support, many former SAF board and staff members contributed in honor of Johnson. Former board members include Mike Albrecht, Joan Bergsund, Celeste Boyd, Bill Coffill, Dean Cunningham, Roger Francis, Tricia Gardella, Jim Gianelli, Patricia Jones, Marilyn Knudson, Clark Segerstrom and Todd Simonson. Former staff include Lin Freer, Mick Grimes and Ed Wyllie.
Johnson passed away on March 26, 2019. In addition to serving for 12 years on SAF's board of directors (eight years as president), Johnson was very active in the Twain Harte community.
Johnson's community ties reach back to the 1940's when his family spent weekends and summers at its Twain Harte cabin.  After retiring from a career in the medical equipment industry, Johnson and wife Pat (whom he met while lifeguarding at Twain Harte Lake) retired to Twain Harte in 1999.
Johnson's 20 years in the area were filled with volunteerism: He served as president of Twain Harte Sons in Retirement; both president and a director of Twain Harte Lake Association board; president of Twain Harte Homeowners Association board; and a director of Twain Harte Community Services District board.
In cooperation with Twain Harte Homeowners Association and Twain Harte Community Services District (THCSD), Johnson had been working on an expansion and improvement project for the Twain Harte bocce courts at the time of his passing. The project is to be part of the new Twain Harte Meadows Park and includes shade structures over the existing courts and the addition of a shaded gathering area.
THCSD is aiming for a summer 2020 completion date for the bocce courts improvements, according to General Manager Tom Trott; however, timing of the project may need to be tied to the construction of the larger Twain Harte Meadows Park project.
"We are currently working on leveraging the funds to obtain a Prop 68 State Parks grant that would add to the planned bocce courts improvements and also cover costs to construct the new park. We hope to hear good news from the state this December," says Trott, referring to the recently submitted grant application.
Learn more about Twain Harte Meadows Park development here.